If you have been wondering why stocks like Amazon, Meta, Google, Microsoft, etc have been bleeding money out of your pocket, well it is because of their not-so-good earnings. These companies together lost a market cap of $350 Billion combined.
Google and Microsoft led the downfall when Google reported $57 Billion in revenue which was slightly lower than expected and their year-over-year growth rate fell to 6% which has been the slowest since June 2020. YouTube's revenue fell for the first time. Google's stock fell by more than 9% on the day it reported their earnings
Microsoft then contributed to the downfall when on the same day, the company had reported good numbers but then it was the company's next-quarter guidance that led to the sell-off. Microsoft is reportedly facing margin issues with their services which further decrease investor confidence. The stock fell by 7% on the same day when Google reported its earnings which led to a market downfall that day.
Amazon and Meta were punished for their earnings as well, as both of the tech giants saw a slower rate of increase in their numbers and the current economic slowdowns were punishing the former high flyers. Meta's stock plunged to a 6-year low of $98. This has been the worst year for Mark Zuckerberg and his company Meta, the stock has been beaten down by more than 70% this year.
Things were also bleak at Amazon after the company's stock fell by more than 13% after a gloomy fourth-quarter forecast along with an enormous slowdown in its cloud computing business.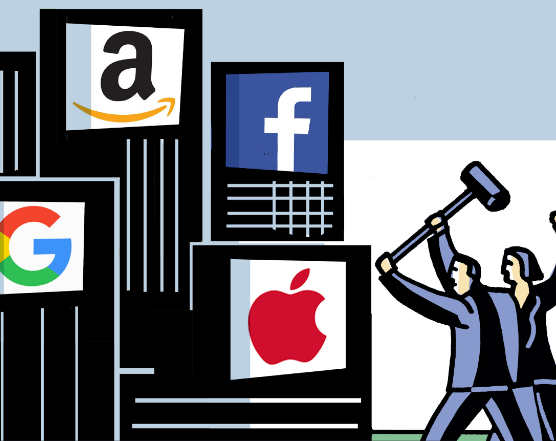 Tesla saw its share falling more than 6% after it missed out on revenue slightly and deliveries, Elon Musk made some pretty optimistic calls about the carmaker on the earnings call but the stock still went spiraling down.
Once again, Apple proved to be the "Golden Company" out of the big tech group after it reported record revenue of $90 Billion which pushed the stock more than 8% and boosted the market rally on Friday. Apple was the only company to post good earnings which led the stock to rise so much. It was mentioned as the "Saviour" on Friday as it rescued the market to close in red again.
Tech stocks have taken a good beating this year, but instead of seeing this as a threat, this can be taken as a good opportunity to invest in good companies, in some cases, they are trading for year-low prices for the same good businesses they are.